Milescapes joins with KONPAY in support of Haiti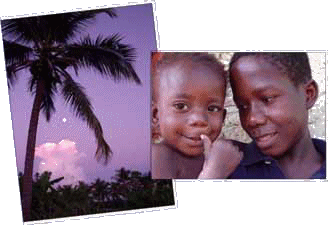 Konbit Pou Ayiti/KONPAY (Working Together for Haiti) strengthens existing organizations, builds national networks and creates relationships between individuals in the U.S. and Haiti. KONPAY focuses on Haitian solutions to environmental, social and economic problems and provides training and funding to grassroots and community-based projects. KONPAY is supporting Haitian-led efforts to reforest Haiti and protect the environment.
A konbit is an ancient tradition passed down from Haiti's African ancestors where members of the community create work teams for difficult tasks and to assist disadvantaged members of the community.
A portion of the proceeds from your purchases from the following pages helps the people of Haiti
Sales of photos and gifts benefit grassroots work in Haiti sponsored by KONPAY.
Sales of the children's pictures and gifts benefit The Children's Movement to Protect the Environment, The Tree Nursery and Tree Planting Projects.
Sales of artwork by Haitian artists benefit the artist and The Center for Artistic Training of Jacmel, Haiti.
Thank you!
Call or email me with your ideas, suggestions or questions. I'd love to hear from you!
Phone: 315-638-4190; Email: mmiles@milescapesart.com
© 2006 Milescapes
All rights reserved